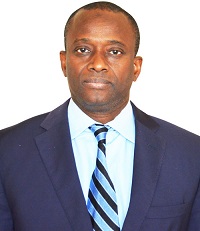 The Port Autonome de Dakar (PAD) is the gateway to Senegal's external trade, the reference logistics platform for the economic development of our country. At the helm of this flagship of the national economy since 2012, and in line with the missions assigned to me by the President of the Republic -who honored me with this nomination- I fostered a strategic vision aimed at making of PAD the port of excellence on the West African coast by 2023, based on performance, efficiency and safety.
 
This vision has given us many satisfactions and reasons for hope for the future of our port.
 
One strategic part of this vision is our wharf specialization policy. As a result of this policy, PAD now boasts dedicated terminals for containers, roll-on/roll-off ships, non-food bulk wares and hydrocarbons, with performances meeting the highest international standards. This policy will soon yield a fruit terminal and a cereal terminal to support the Emerging Senegal Plan.
The vision also emphasizes the security dimension of our operations. As a result, PAD stands out as the safest Port on the West African coast, and has earned us several recognitions and an ISPS certification. Furthermore, an ISO 28000 certification currently in progress, and will be issued soon.
All this is combined with the strengthening of our nautical access conditions materialized by the dredging of our access channel to -13m50 in order to accommodate larger vessels.
This website, a modern and innovative communication tool, will undoubtedly contribute to the enhancement of this vision, by promoting PAD's services, activities, projects and prospects.
Through this tool, the actions we initiate will be permanently disseminated, so that new developments in our sector of activity, our strengths and our key success factors will be better perceived.
The website will also contribute to facilitating the collaboration with PAD and its various partners and clients by putting on-line practical and up-to-date information.
Our credo, therefore, is customer satisfaction, and that's why our new signature "Excellence at Sound, Safe, Seaport" is a way of sealing a contract of trust with our partners to sail together to Emergence.
           Aboubacar Sadikh BEYE
Managing Director
Dakar Port Authority (PAD)